5 Things To Buy YOURSELF This Holiday Season
The holidays are right around the corner, and that means getting stuff for the people in your life.
But aren't you forgetting someone?
What about that one person who's always got your back? He's the one guy who's been there though thick and thin, come hell and high water.
If you still need a clue, walk up to the nearest mirror.
Self-gifting is all the rage now, and it doesn't hurt to splurge a bit on yourself for being such a swell guy. After all, you've made it through another year, so you must be doing something right.
So forget those lame gift exchanges – here are a few ideas before you go shopping:
#1: Get a Wardrobe Upgrade
Anyone can get a shiny new smartphone for himself, but all the snazzy tech can't save you from a sloppy set of threads. This season, put together a sharp outfit to boost your confidence to stratospheric levels.
Think along the lines of a crisp dress shirt, a smart pair of pants and even a two-button, slim-cut suit to bring out your masculine qualities. Don't neglect your casual get-up either; even when you're off the clock, you owe it to yourself to look on top of your game.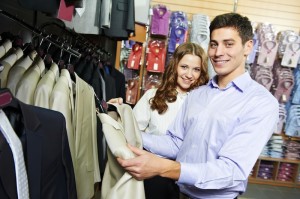 If you need some inspiration, just look at what TV and movie characters are wearing on-screen.
Try punching in something into Google like "How to dress like Benedict Cumberbatch (from the show 'Sherlock')/Walter White ('Breaking Bad')/Gabriel Macht (from the appropriately titled 'Suits')" The search results should give you plenty of ideas of what to get for yourself.
So, whether you're trying to cross over from geeky to stylish or just want to inject a little excitement into your fashion life, head over to the nearest men's store with a helpful staff.
Plus points if you get help from a female clerk – it's the perfect opportunity for a little harmless flirting on your way to dappersville.
Also, bring along the most stylish dude you know (like a friend or male relative), or a female friend who's willing to give honest fashion advice during your personal transformation. They can raid your closet and tell you exactly what to throw out or keep.
#2: Get a Belt (and Matching Shoes)
What good is a wardrobe without the proverbial icing? Your footwear and accessories mean just as much because it ties your whole look together.
Belt and shoe brands come in all varieties for different occasions. But if you'll be in a formal or business situation, you'll want the leather around your waist and feet to be the same.
As for footwear, there are different types to match different days of the week, such as wingtips, penny (or suade) loafers, boat shoes (mostly for casual days), black cap toe oxfords (when you really need to dress up) and of course, off-duty sneakers.
Off the top of our heads, you'll want to check out brands such as Rockport, Saint Laurent, Massimo Dutti, Sperry Top Siders and J. Crew (who also makes belts) just to name a few. While these are good places to start, don't limit yourself to these and check out the more practical equivalent in your local stores.
The same goes for belts. Look for stuff from Asos, Levi's and Cole Haan, but explore other options within your area (again, consult with the staff or your buddies).
However, do remember the basic rule of thumb when wearing a belt. It enters the loops on your left – the tip should end up on the left loop again after it goes around your waist.
Article continues – CLICK HERE for next page